| | |
| --- | --- |
| Trinocular Zoom Microscopes CST1-0745 | |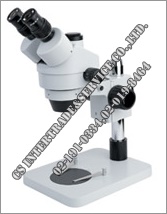 MODEL : CST1-0745
ZOOM STEREO MICROSCOPE
      Stereo Microscope New structural design, more compact and flexible, more comfortable operating and more widely used.
Large zoom ratio, high resolution and larger clear range.
Full-featured, cost-effective, the best choose for the inspection in electronics industry .
■ High quality optical system, and optical components coated with special
coating,  created a high-quality optical system
■ Standard magnification 7X~45X. Use optional auxiliary lens, the magnification can be 3.5X~180X
■ Long working distance to create enough space for the users
■ Suit to ergonomic design, feel less fatigue when long time use
Specifications Stereo Zoom Microscope
Eyepiece : Wide field high eyepiont eyepiece WF10X/20mm
Viewing Head : Trinocular head, 45° inclined, 360°rotatable, zoom objective 0.7X-4.5X, working distance 100mm. inter-pupillary range 54~76mm, both two tube diopter adjustment(±5)
Focus : Focus arm, two focusing knobs are with tension adjustable, adjust range 50mm.
Stand : Plain Stand
Connect to CCD Camera
Option
Eyepiece :  WF15X/15mm,WF20X/10mm
Auxiliary Lens :  0.5X/165mm, 0.75X/105mm, 1.5X/45mm, 2X/30mm. 
*** สนใจติดต่อสอบถาม 02-019-8464,02-191-0334 สายด่วน 061-149-9159, e-mail:  This e-mail address is being protected from spambots. You need JavaScript enabled to view it , This e-mail address is being protected from spambots. You need JavaScript enabled to view it   ***
stereo Microscope, ขาย stereo microscope, zoom stereo microscope, binocular zoom microscopes, กล้องจุลทรรศน์สเตอริโอไมโครสโคป, trinocular zoom microscopes, turret stereo microscope, เครื่องมือวัดอุตสาหกรรม, เครื่องซ่องดูรายละเอียดชิ้นงาน